Wales Tourist Guide - Articles
Bed and Breakfasts in Wales
There are bed and breakfasts in Wales to suit everyone... from elegant town houses to country inns, from working farms to country houses, from family homes to stately homes, from barn conversions to bungalows… in fact in almost any type of accommodation you can think of.
They are a good accommodation option for a friendly welcome for the visitor to Wales. A cooked breakfast, personal attention, local knowledge provided by the owner, and the individuality of each room and house – these are the ever-popular features of bed & breakfast. And of course, wherever you choose to place your head at the end of your day, you will be close to the famous Wales landscape. In some B&Bs you will awake overlooking magnificent scenery – National Parks, Areas of Outstanding Natural Beauty and stunning coastlines - and in others you will find yourself close to lively entertainment.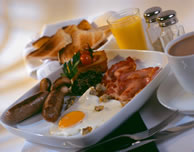 Some offer simple accommodation, others have bathrooms en-suite. There is a comfortable place for every budget. The attraction of a B&B is its intimacy. Some are very small concerns indeed, therefore do check beforehand if your chosen B&B can accept credit card or travellers cheques if you wish to pay by these methods.
Many Bed and Breakfasts in Wales are at the top end of the B&B spectrum, such as Melyd House, a small family run Bed and Breakfast located in the village of Meliden, just outside Prestatyn, on the beautiful North Wales Coast which has a 5 Star rating. Also boasting 5 Stars are The Old Rectory on the Lake, Talyllyn, Southern Snowdonia, and Pendalog Farm, Llanfyllin, Powys; a
luxury Bed and Breakfast in a converted farmhouse in the Welsh Border Country.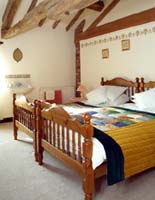 Staying on a farm is another option. The experience is fantastic and excellent for individuals and families alike - relaxing, educational, and a way to explore the working country life, with a farming family as your host and guides.
Please see below for further details.
Bed and Breakfasts in Wales